Go Fourth! with Mrs. Ownes
is having a Linky Party. Yes, I am getting bored this summer and have started working on things for my class. So for something to do, I'm going to join in.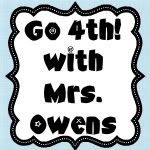 1. I am in love with the Lord and live to serve him!
2. I am obsessed with my nephew. He will be 2 in October and he lives about 4 hours away :(
3. I am teaching in the same town I grew up in.
4. This summer I have become addicted to Pinterest. I love following teaching boards, as well as clothing and ideas for the house.
5. I could live off of Mexican food, especially chips and salsa.
6. I grew up watching the Dallas Cowboys with my dad and I watch every game. I also love the Texas Rangers.
7. Fireworks are on my list of top 10 favorite things.
8. I feed the homeless in downtown Dallas every Wednesday night and have meet some wonderful friends.
9. I bought a house on my own after my 1st year of teaching.
10. I love cats. I have 2 cats named Sadie and Hattie